International Patient Care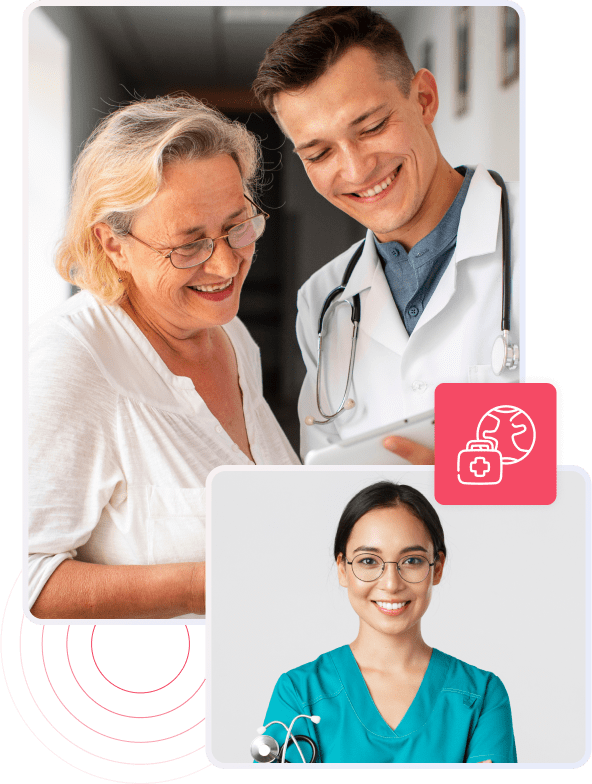 International Patient Care
At Kiran Hospital, we believe that distance should not get in the way of health . We are committed to providing world-class healthcare at affordable cost, irrespective of the political borders. We understand that seeking medical treatment outside your home country can be a physically and emotionally exhausting experience, so to avoid this stressful ordeal, we offer comprehensive healthcare packages for patients from other countries. Apart from this, our dedicated team takes care of all aspects – right from helping to plan the package to ensuring that your treatment period at Kiran Hospital is comfortable and hassle-free.
Kiran Hospital International Patient Care Services
Kiran Hospital is organized to provide excellent services to international patients. Our International Patient Care Department assists patients in planning and preparing their travel itinerary to the hospital. We assure quality medical care with:
A combination of highly skilled medical team and cutting-edge technology
Direct access to the treating consultant. Seamless exchange of information regarding treatment modality, costs involved, probable outcomes, duration of stay (both in and out of the hospital) etc
11-bed state-of-the-art Emergency Department with Complete 24 *7 back up of ICU, ICCU, SICU, PICU, NICU, Pathology Lab, and Radiology Services & Operation Theatres.
Well-sanitized environment and a warm ambience for you to feel at home
All rooms of the hospital are equipped with essential facilities
Extra care towards dining services by preparing food to suit your varied tastes
All Medico legal cases are accepted & facility of Police Room is available near ER
Round-the-clock assistance
Step 1: Learn About Kiran Hospital
You can gather maximum information about our procedures, technologies, specialities, doctors, competencies, services, and facilities from our website. In case you are interested in a certain speciality hospital or doctor, but you are unsure of your choice, you can get in touch with us for more guidance.
Step 2: Response Within 48 Hours
We try to respond to your queries within 48 hours. We may need to ask further questions to clarify and provide more accurate response. Your medical record may also be required by the doctor to communicate available treatment options.
Step 3: Planning Your Travel
Your current doctor can receive free online update/consultation or check with Kiran Hospital doctor regarding your fitness to travel overseas.
Send a copy of your passport (including attendants) to receive a Medical Visa Invitation letter from the hospital that clearly indicates the purpose of travel, duration of treatment, and approximate duration of stay. .
Once you receive the hospital's invitation letter, it is imperative to carry the same at all times during the journey.
Bring along important documents with you including Visas, immunization records, MRI scans, and other medical documents. Check if you need any vaccination(s) - usually patients travelling to India would need Yellow Fever & Oral Polio Vaccines.
Apply for the requisite visa (If your county is not offered Visa on Arrival)
Ensure all medical reports are placed together in a bag safely, preferably carry the same in hand baggage (sometimes checked baggage is delayed / lost).
Check on the Local Weather and choose clothing and footwares accordingly
For patients who are on medication - they must carry medication along with them for at least 4 days
Check with airlines for any forms / declaration they would like you to fill before your travel. In case of patients with special needs like wheelchair it is advised to indicate the same while booking the tickets
Share the detailed flight itinerary with the hospital representative and look for the Kiran Hospital placard with your name at the airport .
Step 4: Arrival At The Hospital
We try to respond to your queries within 48 hours. We may need to ask further questions to clarify and provide more accurate response. Your medical record may also be required by the doctor to communicate available treatment options.
International Patient Care team helps in arranging medical visa by writing a letter to Indian High Commission in the patient's country. This helps to obtain medical visa not only for patient but also for the accompanying attendant.
Ideally, the patient should seek Medical Visa (MV) and the relative/caregiver accompanying the patient should seek Medical Attendant Visa (MV-X) for 30 days, 60 days, 90 days or 180 days (choice available may vary from country to country)
There are options of Single Entry, Double Entry or Multiple Entry Medical/Medical Attendant Visa (choice available may vary from country to country)
Unless otherwise indicated in the hospital visa invite, please apply for 90 days Single Entry Medical Visa - for clarifications you may take assistance from our team.
Once treatment plan is advised by specialist, International Patient Care team arranges quotation or estimated cost of the treatment and hotel stay (if required).
An estimate of expenses as per the requirements of the patient (stay and treatment) will be given by our International Patient care team. An advance amount/ full amount will have to be paid before departure from home country. We accept International visa card / Credit card and wire transfer for payment.
You have the option to wire transfer money before travel. The team arranges to send Proforma Invoice as per estimate shared. It also helps insurance companies and TPAs to place guarantee of payment (GOP) if patient is covered by insurance.
In case patient need to shift in ICU, stay of attendants would be arranged in Dormitory/private room for relative stay as per current policy. Accommodation facility for one relative is available in Twin sharing and Single rooms and Two relative accommodation is available in suite rooms. We provide assistance to book a guest house/hotel as per your preference / budget for room charge.
We arrange complimentary airport pick up/drop in a cab/ Ambulance for patient and accompanying attendant to hospital or hotel as per patient's medical condition or choice.
For OPD and Health checkup appointment coordination will be done by International Patient Coordinator.
Currency exchange facility is available inside hospital premises for Indoor patients.
To avoid language barrier we have outsource service provider on request. However English is a Global Language so it should not be issue for anyone.
We assign Single point of contact (SPOC) for International patient for better coordination. SPOC assists patient and accompanying attendant throughout their stay in hospital for all non-medical assistance like registration, admission and discharge formalities, sim card, Wifi, interpreter, FRRO Formalities, visa extension, accommodation outside hospital and to arrange local sight seeing.
Contact Kiran Hospital
No matter which part of the world you are in, you can now contact Kiran Hospital's International Patient Care Department to be your dedicated point of contact for all health related queries.