Cancers are a group of diseases associated with abnormal growth of cells. Without any check, the disease may keep on progressing ultimately leading to pre-mature death. They can arise anywhere in the body and can affect people from all age groups, socio-economic strata and race. Cancer is the leading cause of morbidity and mortality in the world. According to data by International Agency for Research on Cancer, there were 141 lakh new cancer cases, 82 lakh cancer deaths and 326 lakh people living with cancer in 2012 worldwide. In our own country, about 4.7 lakh new cases of cancer are detected annually. Cancer is responsible for death of about 3.5 lakh people annually in India itself.
There are several major types of cancers: carcinomas form in the cells that cover the skin or line the mouth, throat, lungs and organs; sarcomas are found in the bones, muscles, fibrous tissues and some organs; leukemia is found in the blood, the bone marrow, and the spleen; and lymphomas are found in the lymphatic system.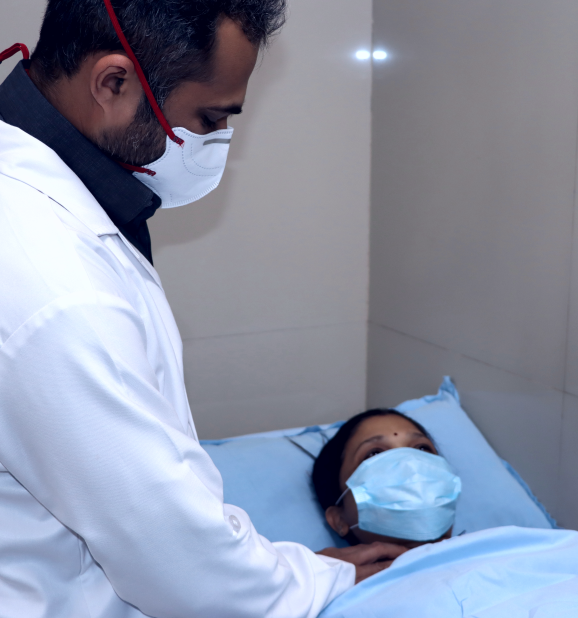 Radiation Oncology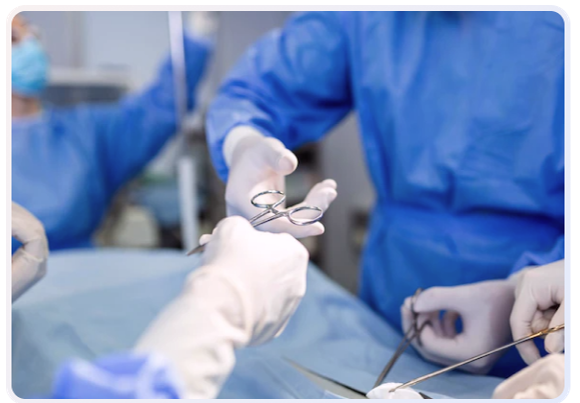 Radiation therapy is the use of ionizing radiation for treatment of diseases and the specialized field of using ionizing radiation for the treatment of cancers is known as Radiation Oncology Approximately. 2/3rd of all cancer patients require radiation therapy as the sole treatment modality or in combination with surgery or anticancer drugs (Chemotherapy). Radiotherapy plays a very important role in curing early stage cancer and in relieving symptoms and possibly prolonging life for patients with advanced cancers.
Our efforts in the department will be to offer optimal radiotherapy and comprehensive patient care. Optimal & efficient delivery of treatment not only requires the appropriate infrastructure but also well trained and motivated personnel. The will facilities offer modern sophisticated, state-of-the-art treatments like 3-D conformal radiotherapy (3-D CRT), intensity modulated radiotherapy & radiosurgery (IMRT & IMRS), Stereotactic radiotherapy/ radiosurgery, Image Guided Radiation therapy (IGRT) and Respiratory Gating apart from conventional radiotherapy. Intra-cranial Stereotactic Radiotherapy and Radiosurgery are delivered using the "Brain-Lab" system comprising of micro-multileaf collimator (mMLC) and a dedicated planning system. Apart from the usual features it has additional features like image fusion using MRI/ PET/ CT images. The PLATO-TPS is used for both High Dose Rate (HDR) and Low Dose Rate (LDR) Brachytherapy Planning. Oncentra Planning System is used for Brachytherapy Contouring. A stringent quality assurance (QA) program and features like the "Online Portal Imaging" ensures efficient and accurate radiotherapy treatment are also available. With newer Linear Accelerators, Cone Beam CT and Mega Voltage CT can be done for patients being treated on Trilogy and Tomotherapy Hi-Art machine
The current infrastructure will be available for external beam therapy includes three Linear Accelerators with 6 to 15 MV photon energy and multiple electron energies from 6 to 20 MeV.
Existing And Advanced Services
3 dimensional Conformal Radiation Therapy
Intensity Modulated Radiation Therapy
Image Guided Radiation Therapy
Total Skin External Radiation Therapy
Robotic Stereo Tactic Radiation Surgery
Stereo Tactic Adaptive Body Radiation Therapy
Palliative Radiation Therapy
Pain and paranesthesia are late symptoms.
All above techniques of treatment will be followed as per the International Protocols.
Infrastructure And Equipments
The Radiation Oncology Department is located at Basement level 2 in area of 33,000 sq. ft.
The department will have 3 Dual Energy Linear Accelerators along with CT Simulator, Brachy Therapy and Minor OT Facilities.
Other equipments will be dosimetry quality assuarance and patient positioning systems.
The Oncology OPD is located on 1st floor
The treatment facility will be located at basement level 2.
Unique Features
The department of Radiation Oncology at Kiran Multi Super Speciality Hospital & Research Centre is Second in Gujarat and 1st in Surat having 3 Linear Accelerators and Bunkers
Medical Oncology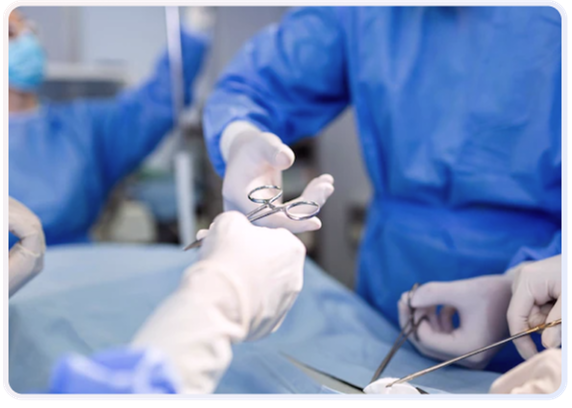 Modern anticancer drugs have helped to mount a major attack against cancer. Many cancers like blood cancer (leukemias), lymphomas and other childhood cancers which were uniformly fatal twenty-five years ago can now be completely cured or effectively contained by these drugs.
A combined treatment using anticancer drugs along with surgery and/or radiotherapy achieves a greater therapeutic effect. The expert team of medical oncologists at the Kiran Hospital
Chemotherapy (also called chemo) is a type of cancer treatment that uses drugs to destroy cancer cells. Chemotherapy works by stopping or slowing the growth of cancer cells, which grow and divide quickly. But it can also harm healthy cells that divide quickly, such as those that line the mouth and intestines or cause hair to grow. Damage to healthy cells may cause side effects.
Often, side effects get better or go away after chemotherapy is over. This can be given before surgery or radiotherapy called neoadjuvant therapy or after called adjuvant chemotherapy. Chemotherapy may be used to destroy cancer cells that have come back (recurrent cancer) or spread to other parts of the body (metastatic cancer). Earlier there used to be less number of chemotherapy drugs but today we have several options of giving 1st, 2nd and 3rd line drugs. Low dose metronomic chemotherapy is also showing some promising results and could be used to treat the cancer as a chronic disease.
Existing And Advanced Services
Chemotherapy for all types of solid tumors.
Chemotherapy for all types of Blood Cancers Lymphomeres and Lucimies.
Diagnosis and treatment of bleeding disorders(Congential and Acquired)
Diagnosis and treatment of anaemias.
Stem cell transplantation Autologous and allogeneic stem cell transplantation
General haematology Anaemias including thalassemia, polycythemia, high and low plateletcounts, high and low white cell counts
Bleeding and clotting disorders
Haemato-oncology
Paediatric oncology
Centre for breast health
Preventive oncology
Day care chemotherapy
Patient counselling
Integrative oncology
Infrastructure And Equipments
HPLC Machine for Hemoglobinopathies
Flow cytro metry
A Pheresis machine in the Blood Bank for bone marrow transplant
Micro-Scope for Haemato oncology
Bone Marrow Biopsy equipments
Bio-Safety cabinet with laminar flow for chemotherapy preparation in Bone marrow transplant, Blood Bank and for the Chemotherapy ward.
Unique Features
The department of Medical Oncology is located on the 1st floor with OPD and 11 beds for Medical Oncology and Haematology Department. In the future we will be having Bone marrow Transplant facility and Stem Cell Therapy facility also.
Our Visionary Leaders
Our Doctors
Here Some Of
Patients Speak
And Share Their Experiences